By Ryan C. Showers ​
This past weekend provided stunning revelations in the Best Picture race…

The Producers Guild Awards awarded "1917" their version of Best Picture, upsetting what most were expecting to be a two-way race between "Once Upon a Time in Hollywood" and "Parasite." This is after "1917" also upset "The Irishman" at the Golden Globes two weeks ago, and then surprised everyone with substantial box office legs, sitting with over $80 million after less than two weeks in wide release. The PGA title is so coveted as a predictor for Best Picture because, like the Academy's method for voting for the top prize, the PGA uses a preferential ballot to choose the winner. The PGA is a "test" of sorts to see which films rise and fall using such a measure. "Once Upon a Time in Hollywood" has been rumored to be a competitive player on the preferential ballot due to its overwhelming apparent love from the industry. As was "Parasite," which is the movie "everyone and their brother loves, and no one hates" this year. The fact that "1917" was able to surmount both films is an enormous development.
The next night, at the Screen Actors Guild Awards, where "1917" wasn't nominated, "Once Upon a Time in Hollywood" and "Parasite" faced off once again for the Best Ensemble win. This is typically seen as a good measure for Best Picture, too, since it demonstrates where the passion is in the acting branch, the largest portion of the voting Academy. "Parasite" was eventually announced as the winner of the SAG Ensemble award, which was predictive after the cast was met with a standing ovation when it introduced the film earlier in the ceremony. The fact that a foreign-language film won this award is groundbreaking. Additionally, the clout "Once Upon a Time in Hollywood" had before in the Best Picture race greatly diminished losing both SAG Ensemble and the PGA award.

"1917" has benefited from sheer luck, unlike any other film I've seen in my 12 years of following awards season. What are the chances for a late-breaking, festival-skipping film such as "1917?" Here's how we've seen the film perform:
Upsets for Best Picture at the Golden Globes a week before its wide release
Surprisingly makes $40M in its wide release opening weekend
Achieves ten Oscar nominations, including makeup and visual effects – these were categories that no one had on the film's radar until it had good showings at those branch bake-offs.
Upsets the supposed industry darling, "Once Upon a Time in Hollywood," and the critics' favorite and #FilmTwitter horse, "Parasite," at the PGA.

That's not all: The Directors Guild Awards and BAFTA awards have yet to announce their victors, and "1917" has an institutional advantage at the former and home-court advantage in the latter. The trend for the DGA in recent years has been to reward the "technical achievement movie," and there's no question that movie this year is "1917." Sam Mendes has already won Best Director at Critics' Choice and the Golden Globes. There's little doubt in my mind how Mendes' streak will end: He'll most likely continue winning the DGA, BAFTA, and Oscar. Additionally, "1917" is a British film about the British army, and a heroic story of bravery and British patriotism. The BAFTA awards will likely double down in rewarding it across the board. I suspect it will do what "Three Billboards Outside Ebbing, Missouri" did two years ago and win both Best Film and Best British Film. "The Favourite" failed to capture both wins last year, but "1917" is an easier film to swallow than "The Favourite" was, and therefore, it will probably have widespread appeal.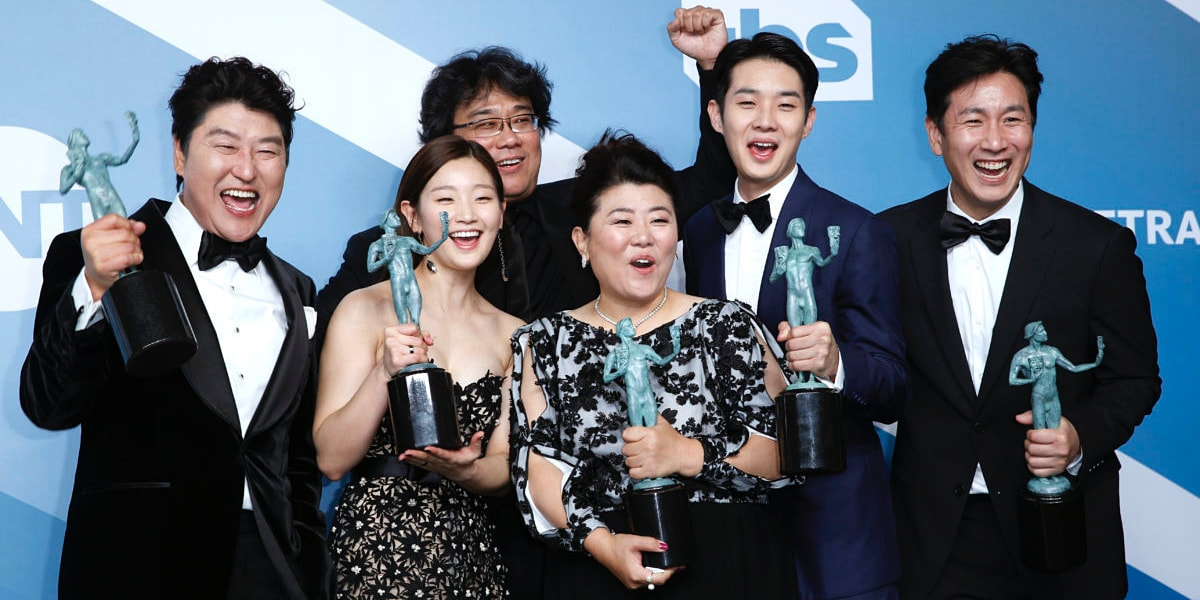 Here's the bigger picture, though: "1917" prevailed in the more difficult precursors to win (PGA and GG), while awards that will be easier for the World War I epic to also clinch, DGA and BAFTA, are yet to come. Its buzz also just happens to be perfectly timed in a condensed season. If it does, in fact, continue to win with these next two easy targets, then I'm ready to call this Best Picture race for "1917." In fact, when I woke up on Sunday morning to the news that the British war epic beat "Once Upon a Time in Hollywood" and "Parasite" at the PGA, I saw that chess move as the beginning of the end of the race. If a film has the Golden Globe, BAFTA, DGA, and PGA, there is an iron-clad path to Best Picture. In fact, I would argue that simply a DGA and PGA combination is pretty undeniable. Think about how "The Shape of Water" had this combination two years ago and circumvented the actors' choice in "Three Billboards Outside Ebbing, Missouri."

Now, before everyone tries to hit me with a bunch of stats, take a breath. I know the PGA/DGA combination winning Best Picture wasn't true for "La La Land," but I would argue that's its own peculiar, once-in-a-lifetime scenario. Don't give me the "Gravity" example, because, again, that was different. "Gravity" still tied with "12 Years a Slave" for PGA, which did end up winning Best Picture. And as fellow Next Best Picture writer, Cody Dericks, pointed out in an article earlier this week, "Crash" won Best Picture on the strength of SAG Ensemble and WGA wins. "Parasite" is expected to win the WGA since Quentin Tarantino won't be competing there. That being said, if Noah Baumbach's "Marriage Story" wins over "Parasite," I'm ready to call its Best Picture chances as dead, despite the SAG win, which would be then compared to an innocuous "Hidden Figures" or "Black Panther" type of a win. If it wins WGA, it still has a path to win, albeit a narrow one.

The one place I see a path for "Parasite" to win Best Picture is at BAFTA. If voters don't want to select "1917" as the winner for both Best Film and Best British Film, they could vote for "1917" in Best British Film and "Parasite" for Best Film, as they did last year (shockingly) with "The Favourite" in Best British Film and "Roma" in Best Film. Or, by some strange movement by fate, "Once Upon a Time in Hollywood," "The Irishman," or "Joker" will win Best Film, which is unlikely.

However, here's the reality: the PGA uses the preferential ballot, the same as the Oscars. Yes, the PGA is a smaller pool, but the measurement is still the same in execution. "Parasite" needed to show strength on the preferential ballot at PGA. There has been so much conversation around "Parasite" as the consensus movie that would do well on the preferential ballot. Yet, the theory failed to show that in practice. When I saw "1917" two weeks ago, I immediately thought, "This is the type of movie that can form a consensus. It won't piss many people off and it's hard to imagine many voters ranking it below second or third on their ballot." Many scoffed at that observation, yet here we are, where "1917" demonstrated strength on the preferential ballot at PGA.
​I made the mistake of not trusting the PGA and its process last year by betting on "Roma" to beat the PGA-winner, "Green Book." (And we all know how that, unfortunately, turned out at the Oscars.) There's also a harsh truth we may face: Perhaps foreign language-speaking films may not be well-suited for the preferential ballot, even in 2020, when the Academy is the largest and most diverse it has ever been. Perhaps, "Roma" would have won last year, and "Parasite" might be in a better position to win this year if the Academy were using a plurality vote for the win.

I don't think the race is over based on what happened this past weekend, but I think the PGA was the beginning of the end of the race if "1917" wins at BAFTA and DGA. "1917" is limited by its late release and lack of itemized support from the acting branch of the Academy. If "1917" does win the Oscar, it would be the first since "Million Dollar Baby," fifteen years ago, to do so as a late-breaking, festival-less Best Picture winner. For all we know, Bong Joon-ho may upset Sam Mendes and send the whole world spinning. But if the trajectory of the race continues on in the likely fashion, then you're looking a "1917" Best Picture win.

Note: This is my objective analysis. I've been at this for a long time. I don't have a strong preference between 1917" and "Parasite" for Best Picture. My personal favorites of the Best Picture race are "Little Women" and "The Irishman," both of which have no shots at winning. I'm just giving the hard truth based on my experience and my instincts. "1917" winning the PGA strikes me as similar to when "Birdman" in 2015 completely upended the trajectory of the season (in this comparison, "Boyhood" is this year's "Parasite") and people got angry, fast. I don't mean to be the bearer of bad news if you love and want "Parasite" to win. I'd agree with you. "Parasite" is probably the better film objectively between the two.
Who do you think is going to win the DGA this weekend? "Parasite" or "1917?" What about the BAFTA? And ultimately, which do you think is winning the Oscar? Give us your latest thoughts on the Oscar race in the comments section below or on our Twitter account.
You can follow Ryan and hear more of his thoughts on the Oscars and Film on Twitter at @rc818