I had the privilege of seeing "Nomadland" at the 58th New York Film Festival last month. Believe the hype. The winner of the Golden Lion at the Venice Film Festival and the People's Choice Award at the Toronto International Film Festival does not disappoint. "Nomadland" has been running laps around most everything else being released at the fall film festivals in terms of reception – and with good reason. The adaptation of the non-fiction book, "Nomadland: Surviving America in the Twenty-First Century," is brilliantly brought to life by Chloe Zhao's central auteur vision. It's a perfectly executed film, one that was made for a high academic critical response. The fact that it is one of the few heavy-hitters premiering at film festivals has helped its cause in gaining the early momentum. However, discussing "Nomadland" with awards pundits will not leave you with an open and shut case.
​The reviews for "Nomadland" could not possibly be better – critics far and wide are relishing in it. All the while, Oscar prognosticators have indicated at worst some skepticism, and at best a cooling of the breaks in what seems to be a full steam ahead awards narrative. Some observers have suggested this is the type of movie that's microtargeted to critics, and the breathtaking experience of "Nomadland" may not extend to the Academy on as broad of a scale.
I would be lying if I said there were not some valid arguments in this counter to the excitement exhibited by critics in response to this film. "Nomadland" carries many themes ripe for the political moment, exercises solid cinematic appeal in its aesthetic and emotional anchoring from Frances McDormand, and is genuinely a beautifully built movie under Zhao's directorial control. However, the topic of the film, nomads, may be out of the mainstream just a bit too much for the Academy to really become submerged. Additionally, the fact that the film sheds a naturalistic quality, giving the sense it's not overly scripted, would most likely be a negative in the Academy's books and may dim prospects for "Nomadland." Many have suggested "Nomadland" could go the way of "The Florida Project," an artful film hailed by critics but only met with one nomination by the Academy on Oscar nomination morning.
While the majority of the film community thus far has formed an overwhelmingly positive consensus around "Nomadland," we have seen a few cracks in the ceiling from people who felt alienated by it and feel it will not be for everyone. As the film becomes more widely seen, that divide will only grow. This is why the film would most likely not be a strong candidate to win Best Picture on the preferential ballot.
After being tried and tested at the film festivals this fall, the question is not a matter of if "Nomadland" will play at the Oscars, but rather, how prominently will "Nomadland" perform in nominations. The fact that the film will be competing in a year with much fewer films released due to the COVID-19 pandemic complicates matters.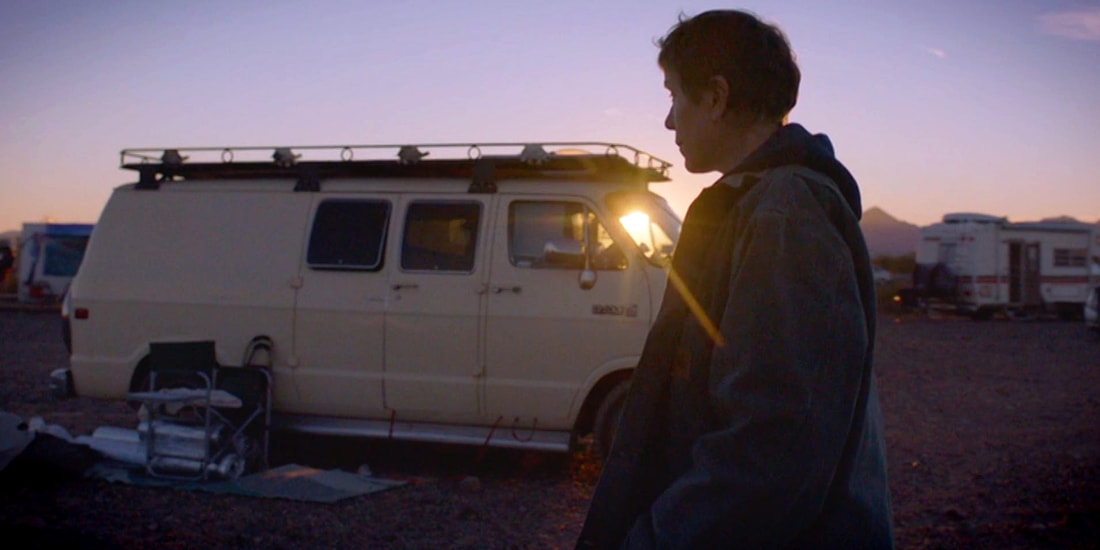 My opinionated observation and main contention is that the lack of competition will be the greatest asset to "Nomadland" come awards season and that many of the concerns about the film underperforming do not apply in this idiosyncratic year in film awards. My takeaway from these arguments is that "Nomadland" may have been "The Florida Project" with a lone acting nomination for Frances McDormand in a strong, normal year for cinema without a pandemic. But with each passing day, more and more films are being catapulted into an indefinite delay, clearing the way for something more obscure like Zhao's masterpiece in "Nomadland" to be celebrated in a way it deserves.
On its weakest morning with the 2020-2021 Oscar nominations, "Nomadland" can expect to get Best Picture and Best Actress for Frances McDormand. These two categories are the closest things to locks of anything in any film thus far into the year. In an expanded lineup for Best Picture, the only real festival darling is likely not to miss when the field is so thin. Additionally, Frances McDormand is the pulse of "Nomadland" – she exists in every scene of the film and produces an exemplary emotional life to the protagonist Fern. Had she not been rewarded with a second Best Actress trophy three years ago for her sensational turn in "Three Billboards Outside Ebbing, Missouri," she would certainly have a path paved to win for this. But because she has won so recently, a third Oscar is most likely a distant dream when contenders exist with more overtly bait-y roles, and with whom the Academy has a greater incentive to honor for the first time with a Best Actress Oscar, like Viola Davis for "Ma Rainey's Black Bottom" and Amy Adams for "Hillbilly Elegy."
While I feel a level of certainty about Best Picture and Best Actress, I also have strong confidence that Chloe Zhao will be honored with nominations in both Best Director and Best Adapted Screenplay. My high level of confidence is shared by most pundits, but not as wide-reaching as the categories I discussed above. While I attributed McDormand to be the pulse of "Nomadland," the movie really belongs to Zhao. Before "Nomadland" released to critics, I was expecting Zhao to sweep her way through the Best Adapted Screenplay races this year. I still think she stands a great shot at being recognized with wins for her writing work. The character work and themes are powerful, and there is more plot and dialogue than I was expecting there to be. Some have voiced concern on the grounds of the screenplay's place in the race, that it has a gentler and more nuanced approach to storytelling than most films that compete for writing. I understand that point of view, but after seeing "Nomadland," I find its narrative to be rich and expansive enough to garner the appreciation of the Academy.
The biggest surprise of "Nomadland" for me was the direction by Zhao. The success of the direction should not have been a surprise considering her talents have been recognized from her previous films "The Rider" and "Songs My Brother Taught Me." However, her work in "Nomadland" is on another level. Zhao's direction is flawless. The film is perfectly executed through her eye and construction. There is no doubt in my mind, especially in a year with the decreased competition, that the directing branch will honor her with a nomination for Best Director.
​In concert with that, I do believe "Nomadland" will also be stiff competition for nominations in Best Cinematography and Best Film Editing. The cinematography has been widely accepted as a frontrunner for a nomination. The photography is sweeping, colorful, and emotionally intimate. Best Film Editing is in a slightly different boat. I'm the only person I know who is really emphasizing "Nomadland" as a contender. In most years, the top films for Best Picture are usually embraced by the editing branch. "Nomadland" will certainly be in the top three or five films in this awards cycle, but also, there is an element of merit. "Nomadland" is crafted in ways that resemble montages underlaid with beautiful music, which has unfortunately been disqualified from Best Original Score. My view is that people are sleeping on this category, but it will fall into place down the line as more of the races come to fruition.
The one other place "Nomadland" will have a realistic bid is David Strathairn in Best Supporting Actor. Strathairn has quietly built up goodwill over his illustrious career. He was last nominated in 2005 for Best Actor in "Good Night and Good Luck." If comparing "Nomadland" to something like "Winter's Bone," a critically praised independent film that performed in the above-the-line categories, Strathairn could receive a nomination in the same way John Hawkes did. Strathairn, as a contender for "Nomadland," also reminds me of Sam Elliott's career nomination for "A Star is Born" two years ago. The fact of the matter is, Strathairn has the most substantial and emotional character in the film other than McDormand. Yet there is a world where the voters who see "Nomadland" as a memorable acting showcase for McDormand, and McDormand only. A nomination for Strathairn is in the realm of possibility but not something for which I am willing to put my neck on the line at this moment in the race.
Strongly Predicted Nominations
1. Best Picture
2. Best Actress
3. Best Director
4. Best Adapted Screenplay
5. Best Cinematography
A Likely Predicted Nomination
1. Best Film Editing
A Possible Contender
1. Best Supporting Actor
What do you think? Do you agree with the assessment of "Nomadland" and its place in the race right now? Let us know in the comments section down below or on our Twitter account.
You can follow Ryan and hear more of his thoughts on the Oscars and Film on Twitter at @rc818