​Before becoming a filmmaker, Peter Hedges was a playwright and novelist, but his own adaptation of his novel "What's Eating Gilbert Grape?" first got him attention in Hollywood as it helped launch the career of a certain Leonardo Dicaprio, the actor receiving his first Oscar nomination in 1994. Eight years later, Hedges was nominated himself for adapting Nick Hornby's "About a Boy."
In 2003, Hedges went behind the camera to direct the indie dramedy "Pieces of April," which received raves out of Sundance, allowing him to do a bigger dramedy through a studio with his next film "Dan in Real Life" with a cast that included Steve Carell, Juliet Binoche, Norbert Leo Butz, Amy Ryan and more. (Even Emily Blunt had a small role in the movie just as she was breaking big.)
Now Hedges is back with his new movie "Ben is Back," starring his son, Oscar-nominated actor Lucas Hedges, as Ben, a young man who has returned home from rehab on Christmas Eve, much to the concern of his mother, played by Julia Roberts. Courtney B. Vance plays Ben's stepfather who is struggling to keep the family together despite the disturbance Ben's return causes, especially with his teen sister Ivy (Kathryn Newton).
"Ben is Back" is a powerful but warm drama about a tough subject that allows you to understand how drug addiction can throw a family into disarray but also how one mother's love for her son overcomes any trepidation about accepting that son back into the family. It begins as a family drama but turns into a race-against-time thriller as Ben tries to recover the family dog and his mother tries to prevent him from slipping back into his addiction.
Next Best Picture sat down with Peter Hedges earlier this week for a wide-ranging interview that included talk about a lot of other great movies that came out this year, but it's pretty clear that he's also a proud father about the work his son Lucas has been doing.
​I read that you put this movie together pretty fast. Wrote it last year, filmed it last year…
That's right.
It got distribution and was at Toronto…
Yes. "Gilbert Grape" happened quickly, but it was based on a novel that I spent five years writing, so in some sense, that wasn't quick for me, but the film happened quickly. I never had anything happen this fast between when I seriously started writing to when we started filming was about a six-month period, and then our first day of filming was a year ago tomorrow. It happened very fast.
Was there a distributor involved at that point or did you just film it independently…
I wrote it as a spec script with the intention that I would finance it myself, make it… for 10 cents, hoping that maybe someone would want to help me make it, but knowing I was going to make it. I was writing it, already imagining that we were filming. When Nina [Jacobson] and Brad [Simpson] were the first producers to come on board. I sent Nina the script – she's an old friend – more just so she could see what I was writing, not thinking she would make a film of this scale, and she immediately wanted to produce it. Julia signed on very quickly after, and then Julia really wanted Lucas to do the film, and that's what played the biggest part in him reading it and considering doing it.
Was Julia hard to get? I feel like she hasn't done as much in recent years. I'm not sure if she's been busy with life or just getting pickier.
She's a very serious and amazing mother, and she doesn't like to work away from her family during the school year, and she's very selective about the work she does. I assumed when we sent it to her that we probably wouldn't get her, but she really responded to the script and what the film's about. We actually moved production up a month; we shortened our prep so that we could get the show shot before she had to go do her television show for Amazon (i.e. "Homecoming").
Which is kind of fortuitous that she has these two things coming out around the same time.
It was this really interesting series of fortuitous moments, and Julia's willingness to do it and that narrow window. Lucas didn't have a window. He was never going to be in a film of mine anyway. He was pretty clear that he didn't want to be in a film of mine, nor did he need to be. His commitment he made to another project, that project was postponed. He was suddenly available, so it all just fell into place.
I'm sure a lot of people wonder what that conversation is like when you offer him a role if you just say, "I wrote this script, can you read it?" or you still have to go through his agent.
No, what happened was that I wrote it never thinking that he would be in it, but hoping that it would be the kind of script that had I not been his father, he would have liked to have done. He's very thoughtful about the projects he wants to pursue, and I think he has exquisite taste, so I did want to write something that was in that same league as "Manchester by the Sea" and "Lady Bird" and "Three Billboards Outside Ebbing, Missouri"—that list is endless of the wonderful projects he's been in. What happened was I was about to start auditioning actors, and the script had been leaked and a number of remarkable actors either had written me or their agents had contacted me to say that they'd be interested in being considered. They're all friends, those kids – it's really impressive how kind and supportive they are to each other. He began to hear from people, "Dude! I read your Dad's script, it's amazing!" so he's like, "Dad, I'm hearing about this script," and I said, "Yeah, I think it's pretty good." Once he read it, he really liked the part, and he thought the story was important, and he knew Julia was interested in doing the film. I think that outweighed the understandable discomfort of working with his Dad.
But also to work with Julia, I think that any actor would jump at that chance because not a lot of actors get that opportunity.
Sure. One of my kind of mantras is that you never want to be the smartest person in the room, and I think for an actor, you never want to be the most talented person in the room if you can work that. One of the things that has been so exciting to watch him in the work he's done. Even as a 15-year-old boy, he was acting opposite Christoph Waltz in a Terry Gilliam film, and Frances McDormand, Saoirse Ronan and this year, Nicole Kidman and Russell Crowe, and Julia Roberts. And he's doing a play on Broadway with Elaine May, and you just don't get better than Elaine May. I think all of these people and these experiences become teaching moments. He gets to grow and learn from them, but he also seems to manage to hold his own with them, which I think is a testament to his talent. With Julia and Lucas, there was an immediate affection, and you feel it all throughout the movie. They bonded right away, and one of the parts of the film I'm most proud of is their chemistry, their dynamic, the push-pull of the battles they have. At times, I felt like I was watching – in some scenes – Jack Lemmon and Walter Matthau or two great buddy comedians go at it. In a couple of scenes. Obviously, most of their scenes are pretty dramatic, but it was really thrilling to watch how they played with each other and how they played off each other.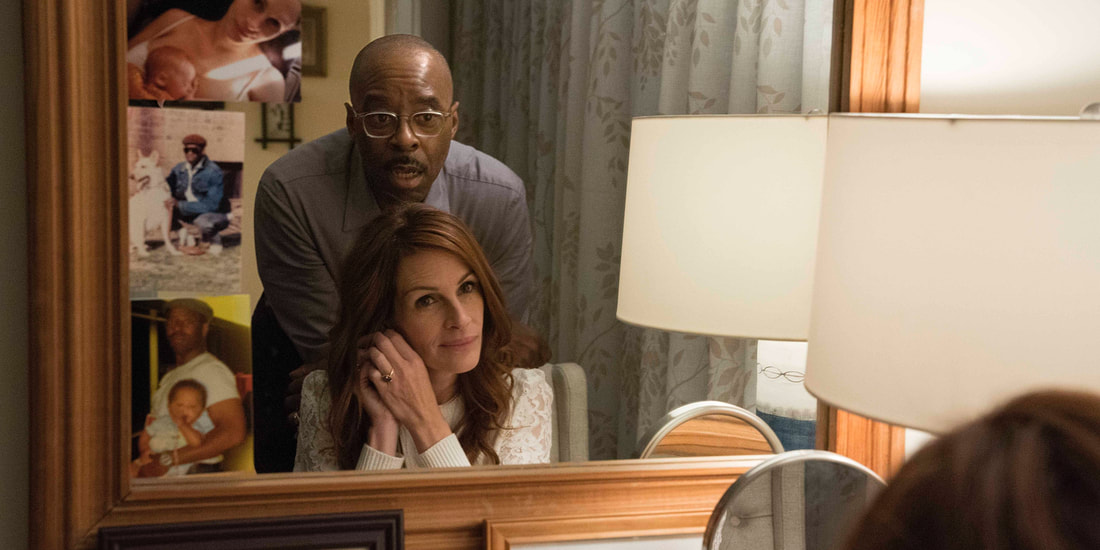 That has to be one of the hardest things about making a family drama because you have to…
Create a family.
Right, you have to create a family of people who have a history. There was another recent movie called "What They Had," and it had these four or five great actors who made you believe they were a family, yet they probably only met right before filming.
Oh, sure. I mean it really comes down to casting and sometimes good luck that people get along. The history of Hollywood is filled where stars couldn't stand each other, and you think they're in love, and they did great work, but this film definitely benefitted, and I attribute a lot of it to Julia's openness and desire of this being a family experience and creating a family. She could have been locked away in her trailer, and she deserves whatever she wants to do. She's earned however she wants to move in the world, but she opted. For our rehearsal process, Lucas and I and Kathryn – Courtney [Vance] wasn't available – but we all traveled to her home. Lucas ended up staying for a couple of days after I left because I had to go back to pre-production, but we were invited into her home, and that's where we rehearsed. I think that helped make that sense of a family who really knows each other. The first time we all had a dinner together, the night before we started filming, within a moment they were a family. It was amazing to watch.
Did Nina suggest Courtney, because she had worked with him before? It was an interesting choice.
Well, first of all, it didn't take much to convince me about him. I'd seen him in "Fences" when I first moved to New York, and Lucas came home from drama school – the one year he was in college – and the first thing he did was show me a scene from "Fences" that he'd seen online of Courtney B. Vance and James Earl Jones. Nina did suggest Courtney, and I thought immediately it was a great idea. I made small adjustments to the script to support the mixed-race marriage, which to me, I think any time we can normalize these kinds of dynamics and these kinds of relationships whereas thirty years ago, we'd need a whole movie just to explain why they were together. The more we can normalize these things, the more we'd advance the world when we do that.
Making a movie about drug addiction, it can be a tough sell to anyone, and also another movie about it, "Beautiful Boy," just came out as well. I don't know how it did, but it's a tough sell because people are like, "Do I want to see a movie about drugs?"
I think one of the things you determine… I remember once I did an interview, and they asked me what movies mattered to me, and I listed "Tender Mercies," "Being There" and "Harold and Maude" – I'm trying to remember the fourth one – and the person said, "Failure… failure… failure" to all of them, and I was like, "What do you mean?" and he said, "They all lost money." And I said, "But they all changed my life, so how can they be failures?" One of the challenges in our film culture is that it's true. I mean, we're not going to compete with "Aquaman" and "Mary Poppins Returns," but can we make this movie for a reasonable amount of money, so we can do our best to guarantee that the financiers, at least break even, that we tried that. We all cut our fees and made this film responsibly. I felt this when I wrote novels that you might not have a million people watching, but if you make something that's urgent and necessary, it might be impactful. Films have interesting lives. I wrote "Gilbert Grape" and not many people saw that in the theater, but it's had an astonishing life through streaming now, but video before, but the life of a movie we can never know. Is it a daunting time to release a serious film about a serious topic? Yes, it's hard. More people are streaming movies and fewer people are going to the theater. Definitely a challenge, but when Julia Roberts and Lucas, too, and Courtney and Kathryn, they all come and do this film, the hope is that we'll find as many ways we can to reach as many people as we can. What we're bringing to people who will experience it is something impactful. I've now shown the movie in nine festivals. I've talked to 14 or 15 audiences after the movie. I'm not saying the movie is for everyone, but at every screening, I've had people either stand up publicly and share their stories or find me privately or find me online through social media. What they have told me and how the movie has impacted them has more than confirmed for me that we need this movie. We need "Beautiful Boy." We need stories like these to come help us navigate this untenable time that we're living in and this epidemic that is ravaging our families and our communities and our country. Yeah, I'm definitely concerned that if the box office numbers aren't at a certain level that it will be perceived by the people who perceive things under those terms, who will say, "That was a failure." In the same way that I was told that "Harold and Maude" and "Being There" and "Tender Mercies" were failures, but those movies changed my life, and more than any film I've ever made, I hope this film finds the right audience and adds to an important conversation we need to have and expands our capacity for empathy and compassion, because we're living in a mean, meantime, and we better start helping each other or we're not going to be worth a lot.
I think everybody has dealt with drug addiction in some way or another, either a friend or loved one, and sometimes you don't even know about it, because drug addicts are so good at hiding it.
I think that's one of the issues. There's so much shame behind it, and one of the things I've noticed is that I had people say to me is, "I've never been able to explain to my boyfriend what I went through in my family." This happened to me in one city recently. She said to me, "But now, I don't have to explain it. I can just show him your film." Again, it's not a film for everyone, but what we also tried to do is make it full of joy and love in appropriate moments and also, make it feel satisfying, cinematically. You go on a ride, there's a journey. My favorite film ever made is a film called "The Celebration" by Thomas Vinterberg. It's a very dark film about a family with a family secret. I'd been put through the wringer emotionally, but I left that theater exhilarated because I knew I had just seen something singular, and it was of itself, and it was complete. I felt like I had a new-found compassion for my family, for people I know who had been through what the hero of that film had been through. I wasn't depressed from the film. I was exhilarated, I was moved, and I felt more alive after the film. That's what I hope happens to an audience when they see "Ben is Back."
I would have guessed Hal Ashby and European films as your influences…
Huge…
I think in Europe, "Ben is Back" wouldn't be seen as a "small family drama," it would just be seen as a movie. They look at cinema differently there than they do here.
That's right. I think so. Now, of course, South American cinema is exploding, too – they're just doing such amazing work. Honestly, I look around and see that challenge at the box office, but there are a number of people who are making… some remarkable films made by women this year – Debra Granik's film, Lynne Ramsay's film, Tamara Jenkins' film. Paul Schrader comes out with this remarkable film. I thought Boots Riley's script was so [interesting]… there's just so many interesting films being made, and I think a lot of us are trying to figure out how to raise our game, so we're telling stories that are of service and of use. Spike Lee's "BlacKkKlansman," Paul Dano's "Wildlife" – I could just go on and on. There are so many films that have excited me, and I think we're going to enter a very interesting period where, particularly in response to the present administration, just the polarization in our politics. There are some interesting films, and passionate and important films are coming. I'm very excited about what I see my peers doing, and in the words of James Brooks, it makes me want to be a better filmmaker. (laughs)
Going back a bit, you're a novelist and a playwright as well, so when you come up with an idea for something, when is the point that you realize it should be a film vs. a novel or play?
I haven't written a play since Lucas was a baby, and my last novel I published in 2010, so I decided at that point that – while I love both of those forms – I feel like film has the greatest opportunity to be impactful, to reach more people. That said, if I had written "Hamilton" – if I had that ability – I think Lin [Manuel Miranda, obviously] has moved the needle with "Hamilton" in a way I'm not capable of doing, so everything I'm working on now is a film. In the past, it was basically trying to listen to the story. For instance, I thought "Gilbert Grape" was a play, but what I realized when I was writing it – cause I never imagined I would write novels – that what I liked the most and what felt the most organic and natural was just letting him talk. So I just let him talk for four years, and wrote and wrote and wrote. Every morning, I'd start my day just letting Gilbert talk, and after four years, I had a thousand pages of prose and eventually cobbled that together to be a novel… not a thousand pages, because the pages weren't all that strong. What you try to do is whatever form you're working in is lean into the strengths of that form, so you want to do in a play things you can't do in a movie or a novel. A novel you can swim around in people's thoughts in a very particular and exciting way. By my third novel — even though that read more like a movie and that's when I thought maybe I should just be writing… "I'm going to write movies until people won't let me make them anymore, then I'll go back to writing novels." That's probably my plan.
What ended up being the experience working with your son? Did you feel you both got enough working together that you might consider doing it again if he likes the script or was this just something cathartic that you did and that's it?
Yeah, I would never presume that he would ever want to do another film with me, but I will try to write something that's so good that he won't be able to refuse the offer. I never imagined he would work with me because I really took him at his word, but it was a dream that I never had that came true, if that's the proper phrase. Certainly, what I'm writing presently, there's no part for him in it. Maybe down the road, I'll get another chance to work with him. That would be, for me, another dream that I'm not imagining that would come true.
"Ben is Back" opens in select cities on Friday, December 7.
You can follow Edward and hear more of his thoughts on the Oscars and Film on Twitter at @EDouglasWW