By Cody Dericks
​
​The two months since "Parasite" won Best Picture have felt like an eternity. But imagine if this year's ceremony was held this month. Perhaps surprisingly, the Oscars have been held in April a total of 23 times, which is exactly one-quarter of the 92 Oscar ceremonies we've had so far.
​Below are the 23 ceremonies and the winning Best Picture:

1928/29: "The Broadway Melody"
1958: "Gigi"
1959: "Ben-Hur"
1960: "The Apartment"
1961: "West Side Story"
1962: "Lawrence of Arabia"
1963: "Tom Jones"
1964: "My Fair Lady"
1965: "The Sound of Music"
1966: "A Man for All Seasons"
1967: "In the Heat of the Night"
1968: "Oliver!"
1969: "Midnight Cowboy"
1970: "Patton"
1971: "The French Connection"
1973: "The Sting"
1974: "The Godfather Part II"
1977: "Annie Hall"
1978: "The Deer Hunter"
1979: "Kramer vs. Kramer"
1982: "Gandhi"
1983: "Terms of Endearment"
1987: "The Last Emperor"
There's no way to know for certain the logic of Oscar voters, but it appears that having an April ceremony does result in unique patterns. Let's take a look at these years and see what we can find. For the purpose of this article, I won't be discussing the year "The Broadway Melody" won Best Picture; it was only the second Oscar ceremony so patterns, statistics, and other common methods of Oscar predicting are harder to factor in for that year. For the first five Oscar ceremonies, the month of the awards presentation varied wildly before finally settling on the recurring February/March ceremony.
Part of the fun of Oscar watching is finding patterns across the years and trying to see why such recurrences are appealing to Academy voters. When looking at the years of April ceremonies, a few patterns quickly become clear. First, for whatever reason, these years produced a large number of Best Picture winners that swept the awards as a whole. Of these 23 ceremonies, a whopping nine of them resulted in a Best Picture winner that won a total of seven Oscars or more. Sweeps have become increasingly rare in recent years, so for over one-third of the April ceremonies to result in them is surprising. Perhaps Oscar voters, when faced with a longer time to deliberate on what to vote for, simply choose to vote for their favorite film in as many categories as possible rather than having to think too long and hard about where to specifically place their votes. Another noticeable pattern is that many of the films awarded Best Picture in April were box office hits. Of all the April Best Picture winners, only five of these films weren't in the box office top 10 for the year of their release. Of course, winning Best Picture may have aided many of the more successful films in making money, but it would be difficult to make it into the top 10 if the film wasn't a hit before the Oscars. To continue speculating, it appears that when a film has more time to make more money before the Oscar ceremony, and therefore becomes a greater talking point in popular culture, Oscar voters seem more likely to want to reward it.
In exploring April Oscar ceremonies, patterns emerge not only in the statistics of the awards and films themselves but also in the type of films that win Best Picture. I have categorized these Best Picture winners by their shared themes to see how these similarities may have helped them snag the biggest award of the night.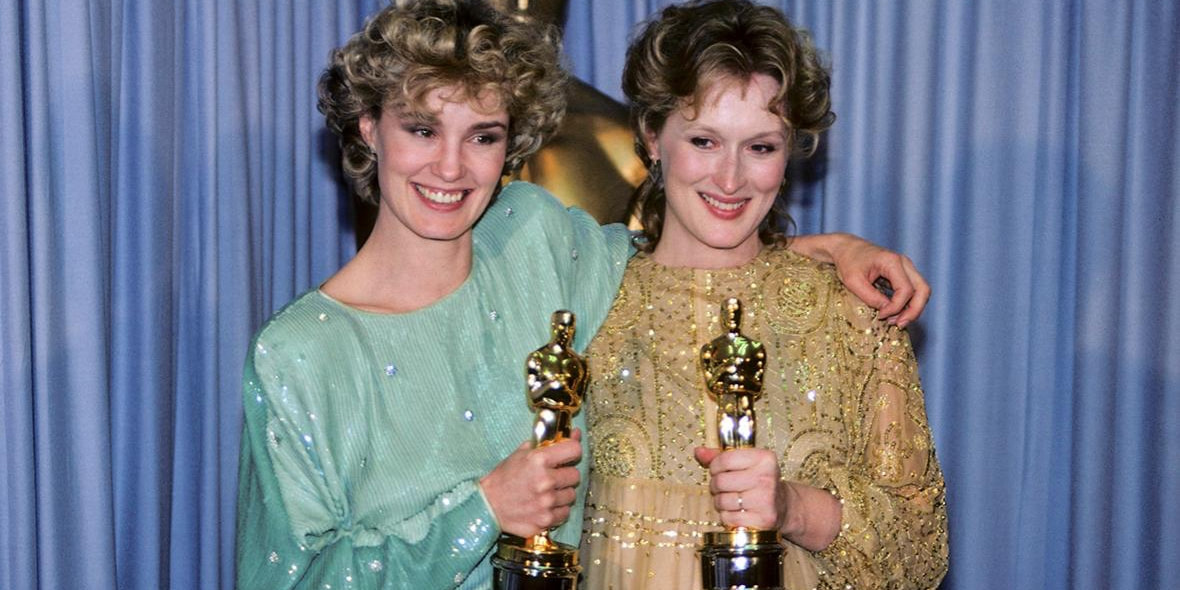 First up is a type of film that has yet to significantly fade from Oscars' favor: the sweeping historical drama anchored by a singular and sometimes complicated male figure. The April Oscar ceremonies appeared to highly favor these type of films, which include the Best Picture winners "Ben-Hur," "Lawrence of Arabia," "A Man for All Seasons," "Patton," "The Godfather Part II," "Gandhi," and "The Last Emperor". Most of these films also happen to fall into the aforementioned sweep category, with all of them except "The Godfather Part II" and "A Man for All Seasons" winning at least seven Oscars (although those two films both won a respectable six Oscars each). Going back to 1931's "Cimarron" and continuing through to 2013's "12 Years a Slave," these types of films have always been a favorite of Oscar voters. Because they're so often rewarded throughout Oscar history, I can't necessarily say that a later ceremony had anything to do with these films' success with the Academy.
Next up is a genre of film that was once a favorite of the Academy's before they quickly stopped awarding them: the musical. The April ceremonies awarded Best Picture to five musicals: "Gigi," "West Side Story," "My Fair Lady," "The Sound of Music," and "Oliver!". The 1960s were a huge time for the musical film, with these gargantuan movies promising a scale and spectacle not achievable on Hollywood's biggest competitor: television. They were also all box office hits. "The Sound of Music" was the highest-grossing film of its year and "My Fair Lady" was only beaten by another musical: "Mary Poppins". These films were a major part of the cultural conversation, and their Oscar victories must have seemed assured.
A surprising trend found in the April Oscar ceremonies is the abundance of comedies that were awarded Best Picture. This genre is historically the least appealing to Oscar voters, which makes the victories of these four comedies all the more surprising: "The Apartment," "Tom Jones," "The Sting," and "Annie Hall". Granted, these comedies do have a certain quality that may be more appealing to high-minded Oscar voters than a more typically audience-friendly comedy. For instance, "The Apartment" features a mix of a heavy plotline and an overall gentle satire of modern relations and office life. "The Sting" is a period piece about criminals that was released in a time when the Academy loved to reward films that explored high-level crime. "Annie Hall" is an artfully minded romantic comedy with a heavy directorial hand that reflects the auteurist sensibilities of the time. "Tom Jones" is the only outlier. While it is a social satire, it's more notably an outright bawdy comedy. However, the 1963 Oscar lineup is generally considered to be a fairly weak roster, and with the country still reeling from the assassination of President Kennedy less than five months before the ceremony, "Tom Jones" may have been exactly the type of light fare that voters wished to reward at the time.
​Five of the April Best Picture winners fall into a generalized drama category. "Midnight Cowboy," "The French Connection" and "The Deer Hunter" are gritty New Hollywood dramas anchored by a strong directorial presence, and "Terms of Endearment" and "Kramer vs. Kramer" are family dramas that played like blockbusters. ("Kramer vs. Kramer" was the highest-grossing film at the domestic box office in 1979 and "Terms of Endearment" was in second place behind "Return of the Jedi".) These are also some of the more respectable winners the Academy has ever produced, with the Best Picture wins for "Midnight Cowboy" and "The Deer Hunter" aging particularly well. All of these films are indicative of what Hollywood was focusing on in this era, and they serve as worthy time capsules for the years of their release.
Only one Best Picture remains, and it's the only film awarded in April that could arguably be considered an "upset": "In the Heat of the Night". There were significantly fewer precursor awards in 1967 than there are today, but taking a look at them shows that this film's Oscar success was not guaranteed. It did win Best Picture – Drama at the Golden Globes and was named Best Film by the New York Film Critics Circle, but it failed to win any of the always-important guild awards. Plus, Norman Jewison didn't win a single Best Director award for this film; Mike Nichols, who would eventually best him at the Oscars, won both the Directors Guild and the Golden Globe, which indicates that Nichols' win can't have been too surprising. When a film is assured a Best Director win, it's usually risky to predict something else winning Best Picture. Additionally, "In the Heat of the Night" was tied with "The Graduate" for the least overall nominations of all of the Best Picture nominees at that year's Oscars. "In the Heat of the Night" wasn't even much of a box office sensation compared to the other nominees – it was the 13th highest-grossing film of 1967 (the only one of its fellow Best Picture nominees to make less money was "Doctor Dolittle"). All of these statistics and facts combine to make "In the Heat of the Night" a fairly unlikely Best Picture winner in April or any other month. There is an argument to be made that some other April Best Picture winners could also be considered surprise winners, namely "Oliver!," "Midnight Cowboy," and "The Deer Hunter". However, all of those films had either box office success or a decent amount of precursor love that made their ultimate victories less surprising than they may appear.
Looking at the Best Picture winners of April ceremonies yields surprising results. Some of the voters' choices can be looked at as being a result of having the awards show later in the year than usual, and some of the winners indicate fairly typical Oscar voter mindsets. Overall, this sums up the fun of predicting the Oscars: sometimes you can reason your way into the mind of an Academy voter, and sometimes you simply can't.
What are your thoughts? Do you think the Oscars should be held in April? Let us know your thoughts in the comments section below or on our Twitter account.
You can follow Cody and hear more of his thoughts on the Oscars and Film on Twitter at @codymonster91